When homesickness triumphs
Melanie O'Brien loves her home. Nature, food, friends, family - everything that matters to her is in the middle of the Kitzbüheler Alpen. However, something was missing – love, and to find this she had to spread her wings as far away as New Zealand, only to return with her partner, Rory, because homesickness for Tyrol triumphed over wanderlust.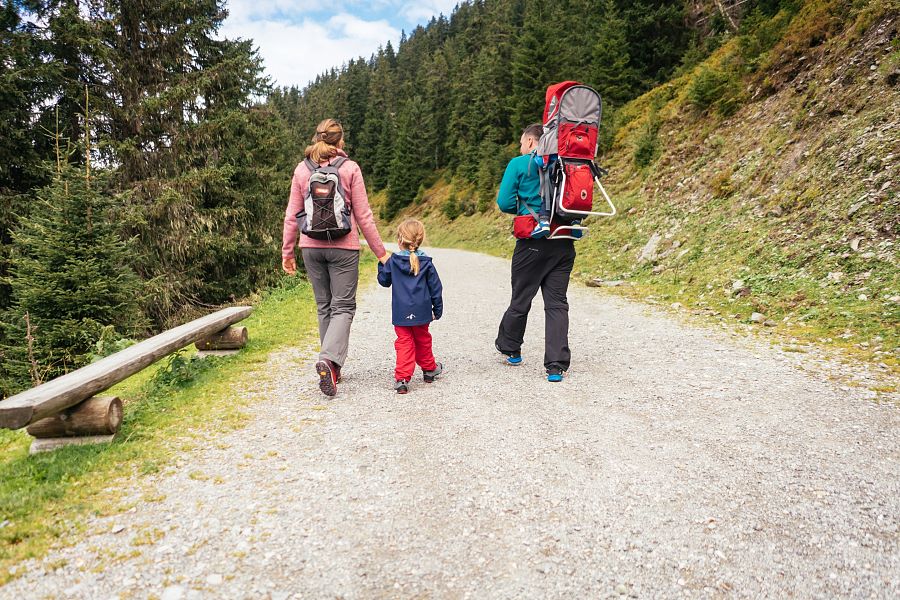 Family hike to Choralpe in Alpinolino's Adventure World in Westendorf.
When Melanie, a 17-year-old girl, stood at the front door with her packed suitcase to say goodbye to her family, friends and country for a longer period of time to go travelling with her best friend, her mother warned with foresight: "I wish you a wonderful time in New Zealand, go out into the world impetuously, be impressed by foreign cultures, be inquisitive and full of zest for new experiences. But there's one thing I'll desperately ask of you, my darling daughter, don't bring a New Zealander home to me." Nowadays both mother and daughter laugh heartily over this. And Rory, Melanie's partner, who really is a genuine New Zealander, left his native country for love to settle down in Tyrol and start a family. Looking back both agree it wasn't an easy decision, "Initially we travelled between the two continents, lived in New Zealand for one and a half years and ultimately decided to live in Tyrol." Melanie was suffering from extreme homesickness. "I liked living there, it's a beautiful country, but I missed the Tyrolean nature, my family and friends." Rory soon understood that he couldn't keep her overseas and made the move to Kirchberg in Tyrol.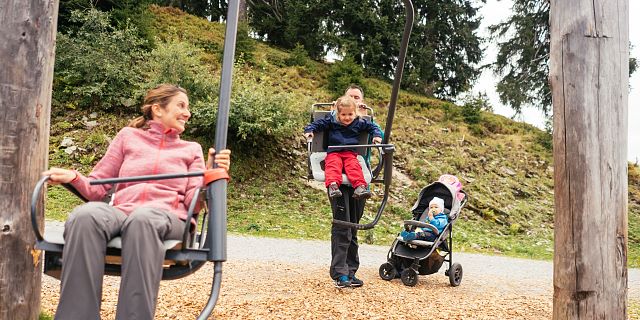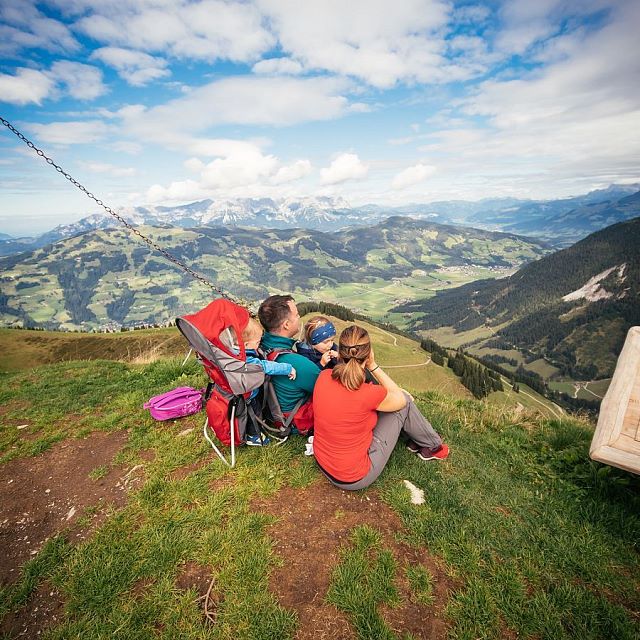 For love of the country
The two have never, ever regretted their decision. With their two children Emma and Jamie, they enjoy the sheltered country life, far away from the chaos of big cities and hectic and stressful lives. Together, they teach their children the values of life which they appreciate and consider important. They bake oven-fresh bread together, explain how things interconnect in fun, playful ways, and spend a lot of time outside in nature regardless of the weather conditions. The region all around the Kitzbüheler Alpen provides families, both locals and guests, with a treasure chest full of possibilities / opportunities. Every mountain has adventures with stations for children, to bring them closer to nature." The all-time favourite for the young family is the Alpinolino Discovery Park, the mountain experience for young and old, in Westendorf.
Have you visited the eagle's nest yet today?
Once you have reached this magical place at the mountain-top station of the Alpenrosenbahn with the gondola, there is a lot to be found, with the exception of one thing – boredom! Two separate Themed hiking trails called "Himmelssteig" (Climb to the Sky) and "Holzwurmweg" (Woodworm Trail) invite you on an all-day adventure for the family. Along these paths, puzzles and games are waiting to be discovered and solved. "This makes hiking a real experience for our children." The peak may be the crowning glory of the day for adults, but for the little ones it is the path itself that promises adventure. The mountain world can be experienced anew at educational stations over a length of 1.5 kilometres. If you open your eyes and ears, you will discover much more and have unforgettable days spent with your children locked away in your memories. With lots of entertainment on the way, the path leads you to the summit cross, where Adler Bert's nest is located and you are rewarded with a unique view of the Brixental valley.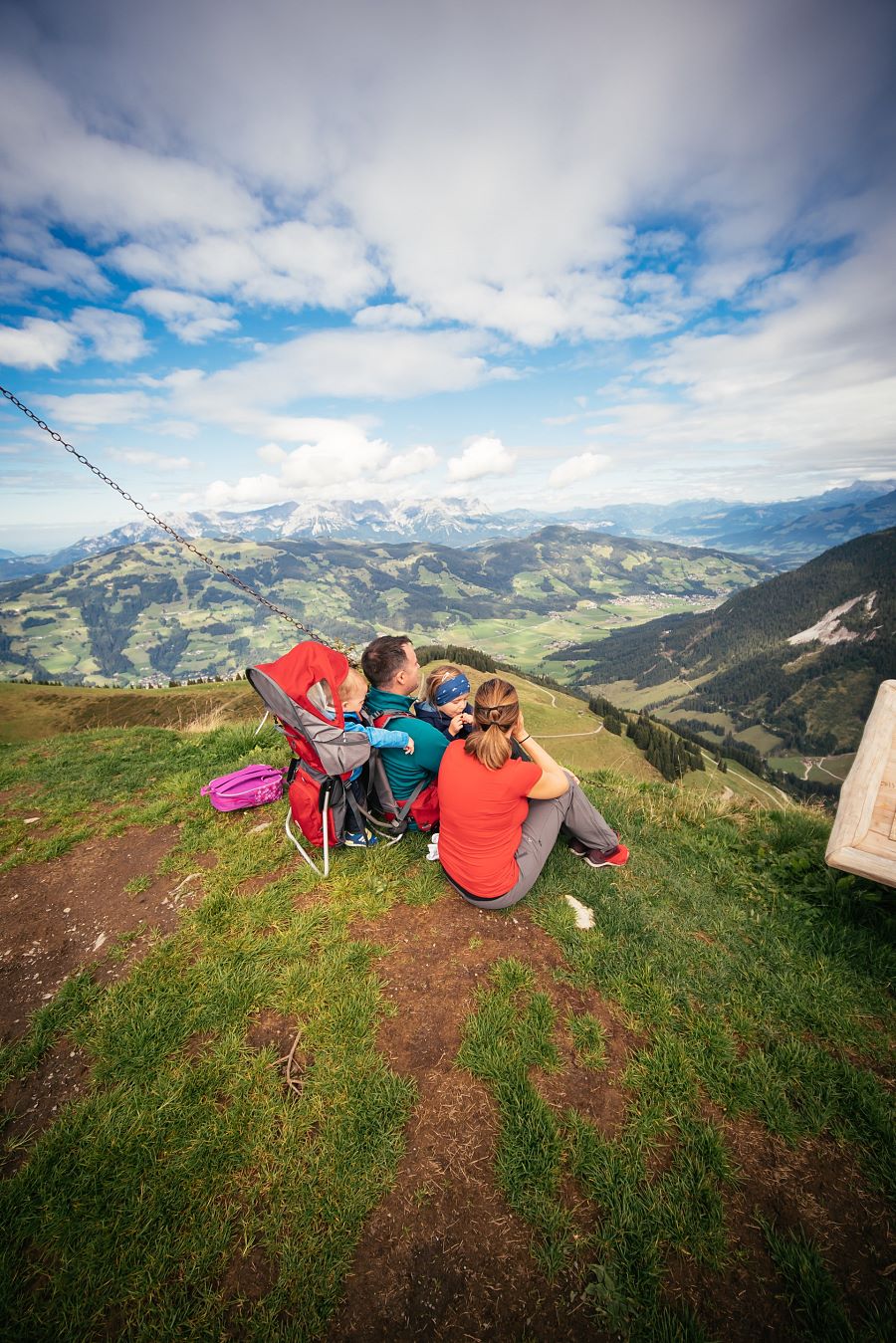 At the summit, the family enjoys the tranquillity and the view across the Kitzbüheler Alpen.
"The discovery park is ideal for children from the age of four. Anyone who purchases the Kitzbüheler Alpen Summer Card also enjoys a free journey on the mountain lifts to the sunny mountain experiences." For Melanie it is the peace and tranquility of the mountains that satisfy her longing. For this reason too, holidaymakers find their way here: "People get out of their cars and know immediately that they have arrived. For every guest there's something to strengthen their body and soul." Rory has also learned to appreciate all of this. "We found the perfect place to let our children grow up mindful."





More helpful information
...nurture body and soul. Born 1986 in Carinthia, studied media and communication sciences in Klagenfurt. As a freelance journalist, copywriter and blogger she likes to travel a lot. Mountain freak, horse freak, neo-cellist and gourmet. More details: www.gedankenschmiede.at more details
all articles
Find more stories on the following topics
You might also be interested in these articles