Fieberbrunn: Home of diversity
There are places in life that are beneficial for the mind and soul. Michael Wallner is fortunate to have grown up in one of these places. We're talking about Fieberbrunn in Tyrol. Directly between the Kitzbüheler Alpen and the western foothills of the Leogang Steinberge, it is a place that Michael learned to appreciate and love as a young boy.
Michael Wallner never wanted to move away from Fieberbrunn. And he never did. After primary and secondary school, he successfully completed an apprenticeship as a machine fitter and has now been self-employed in sunshade products for ten years. He became a father for the first time at the young age of 21. Since then he has endeavoured to give his children everything that he believes really counts in life.
Away from the mobile phone screen into real life
One of those beliefs is the love and appreciation for nature. "Of course there is the so-called mobile phone generation today. But it is immensely important to me to show my children that there is so much more to life than artificially lit screens." Namely the natural beauty of Tyrol. "The mountains, the air, the nature, we live in a unique diversity. I am very grateful for that." It is these special days when you peep out between the curtains early in the morning, still a little sleepy, and the magnificent blue Winter sky with a landscape glistening with fresh snow greets you. Then there is no stopping Michael and his children. "In Tyrol it is a well-known secret that every child learns to ski in unison with the first few attempts at walking", the family father smiles. And the Skicircus Saalbach Hinterglemm Leogang Fieberbrunn is only a stone's throw away from his bedroom window.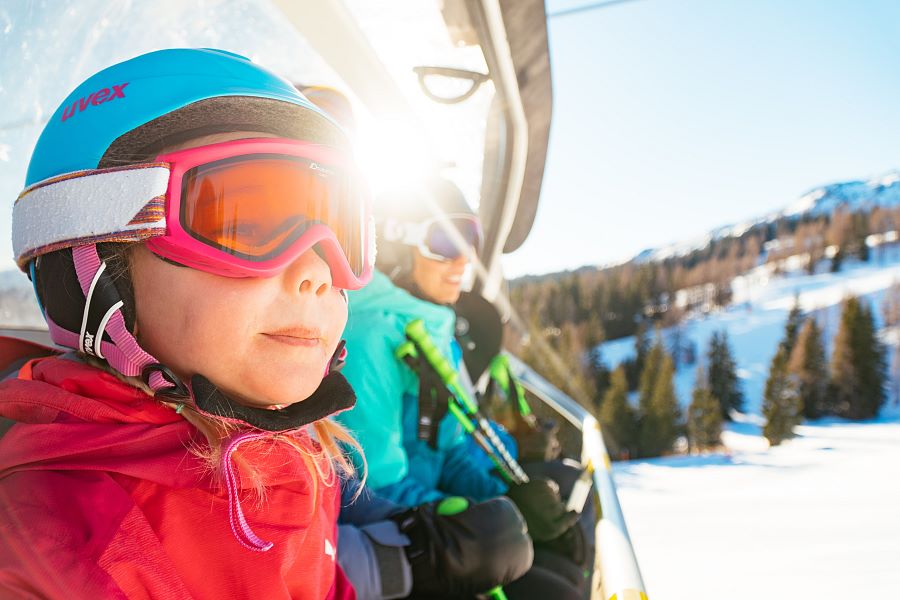 "Manege frei" for the Skicircus
Be it gentle slopes or extensive carving slopes, the motto there in Winter is always: "Manege frei" (Clear the Ring) for 270 tested kilometres of downhill runs in all variants and levels of difficulty. Snow trails, snow parks and natural freeride parks get the children's heart rate up. "Computers, cell phones and televisions are quickly forgotten, because nature beckons as a stage for fun and action all day long until the setting sun disappears behind the mountains. Add to that the modern lifts, the excellent piste conditions - you just can't get bored with this variety", Michael is convinced.
Nature as a haven of peace
When he needs time to switch off at the end of a stressful week at work, Michael goes off alone on one of many ski tours. Secluded paths through forests covered in deep snow take him up to picturesque peaks. It is these moments that give him strength for everyday life again. "For me there is nothing better than a real body workout and letting my thoughts run free. That's all I need to be happy." Because holiday or not, a city trip may have its charm for a weekend, the sea its incomparable breeze, but none of that can compete with what Michael finds every day in his native home.
Honest and down-to-earth
"I think that's exactly why tourism works so well here in Fieberbrunn. People long for country life, for honest people who are down-to-earth and in harmony with nature. It is the regional food, which is perhaps a few euros more expensive than the mass-produced goods in the supermarket, but the taste in such genuine products is priceless anyway. "Regionality is becoming increasingly important. In addition, there is this tranquility, which one searches for, in vain, in the city. All of this combined with the well-developed tourist offers makes this little spot on earth extremely special. "
And everyone who has been here once will return to enjoy this pleasure again, to have found such a place of longing and to find it again and again. Summer as in Winter. All year round. For a lifetime.
More useful links
...nurture body and soul. Born 1986 in Carinthia, studied media and communication sciences in Klagenfurt. As a freelance journalist, copywriter and blogger she likes to travel a lot. Mountain freak, horse freak, neo-cellist and gourmet. More details: www.gedankenschmiede.at more details
all articles
Find more stories on the following topics
You might also be interested in these articles