Off to the Kitzbüheler Alpen! Nature awaits us...

The Tyrolean formula for happy families is fool proof: picturesque mountain landscapes where exciting adventures lay hidden in every nook and cranny and on every summit, combined with exceptional establishments add up to an unforgettable holiday leaving both children and parents alike beaming.
Mother and daughter enjoy a warm Summer's day on sun loungers in front of the Wildalpgatterl in Fieberbrunn.
Who needs an iPad, YouTube or Instagram when nature is the playground and can provide many more adventures? Bettina and Simon Danzl are both native Tyroleans and live in Erpfendorf . They are raising their children, Hannah and Fabian, in a region where such diversity provides a high quality of life. Their daily routine is well planned but there's one thing you can be sure of – no one will be bored. And how is that? In the heart of the picturesque mountainous landscape there is so much to discover and do, that one lifetime is hardly enough. "Our region is so diverse that you can literally try out all sporting hobbies that nature has to offer" agrees everyone. Be it cross-country skiing, Alpine skiing, tobogganing, ski touring in Winter or hiking, biking, running, climbing or swimming in Summer – nature provides its own "playground". "Of course, we as local residents avail of the tourist offers just as much as our forever-welcome guests" explains Bettina. "Having said that, sometimes a little stream and a few stones are enough to bring the children closer to nature".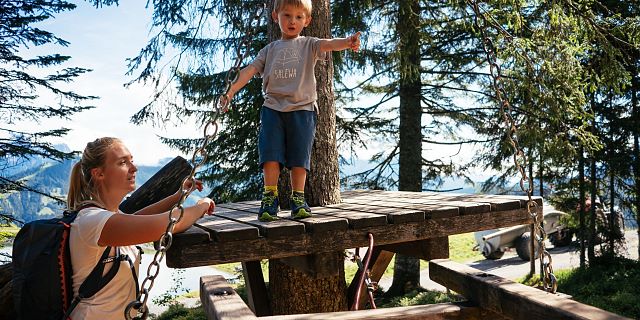 Sporty and healthy in the Kitzbüheler Alpen
The family of four from Erpfendorf is always on the move. Lazing around on the couch and watching TV only happens in exceptional cases. Even when it's raining, everyone still goes outside. What's more fun for children than jumping into puddles? "Even better without welly boots" adds father Simon grinning. They want to teach their children the values of life which they themselves received from their parents. "We learn so much from nature - you just have to look and understand." As a result, there's no such thing as meat purchased in a supermarket appearing on their plates. In fact, it's the complete opposite. Simon's father is a butcher, who buys meat of the highest quality from the region. Potatoes are planted and grown on shared farmland with friends. Eggs are provided by their own hens, and vegetables from their own garden. "For sure, it all takes time, but everything tastes better and our children should know the value of our food and that milk doesn't come from a purple Milka cow".
Its authenticity, regionality and originality is what makes the Kitzbüheler Alpen what they are. "Whether it's a farmhouse, a 4-Star hotel or a small Bed & Breakfast, every host makes every effort to provide the best for their guests and they feel that." Cordiality and quality are of great importance. People are proud of their achievements and of what they have created and like to show it. Be it an extensive summit tour or a leisurely Alpine hike,, swimming in the numerous fresh-water lakes or a horse-trekking excursion, everything that's fun and allows you to experience the magnificent natural landscape is on offer. "City dwellers don't need a laptop or smart phone here, but just good equipment and a healthy assessment of your personal physical fitness. Then nothing can stand in the way of unforgettable moments in the Alpine world", say Bettina and Simon convincingly. "For evenings spent in a mountain hut there's no need for a TV - a pack of cards is more than enough to spend hours of fun and enjoyment with the family."




Tranquility is the source of strength
Ultimately, it's about feeling like yourself again - to reach a mountain summit, regardless of the altitude, and to look back with pride and be able to say: I achieved this all by myself – I'm standing here due to my own strength. "I think there are such experiences that both young and old are actively searching for. The mountains can create these moments of longing. In the past, work was very physical, an element lacking from life today, so long-distance hiking in Summer or ski touring in Winter are booming activities nowadays", says Bettina. "Away from TV and multi-media screens, get out into nature, leave the hustle and bustle behind – that is what people are looking for in their lives. We have beautiful mountains and lakes, an unspoiled cultural landscape and sincere landlords and hosts. For grandparents, parents or the youngest generation, there's something suitable for everyone." If it's originality and naturalness coupled with high standards of quality that you're seeking, without doubt you'll find everything you're looking for in the Kitzbüheler Alpen.



More helpful information
...nurture body and soul. Born 1986 in Carinthia, studied media and communication sciences in Klagenfurt. As a freelance journalist, copywriter and blogger she likes to travel a lot. Mountain freak, horse freak, neo-cellist and gourmet. More details: www.gedankenschmiede.at more details
all articles
Find more stories on the following topics
You might also be interested in these articles