A mountain soul with wanderlust
Sometimes you have to break out of your familiar, social structure in order to rediscover your native home from a new perspective years later, to fall in love again, and to put down roots. For familiarities and traditions are forever etched in the heart.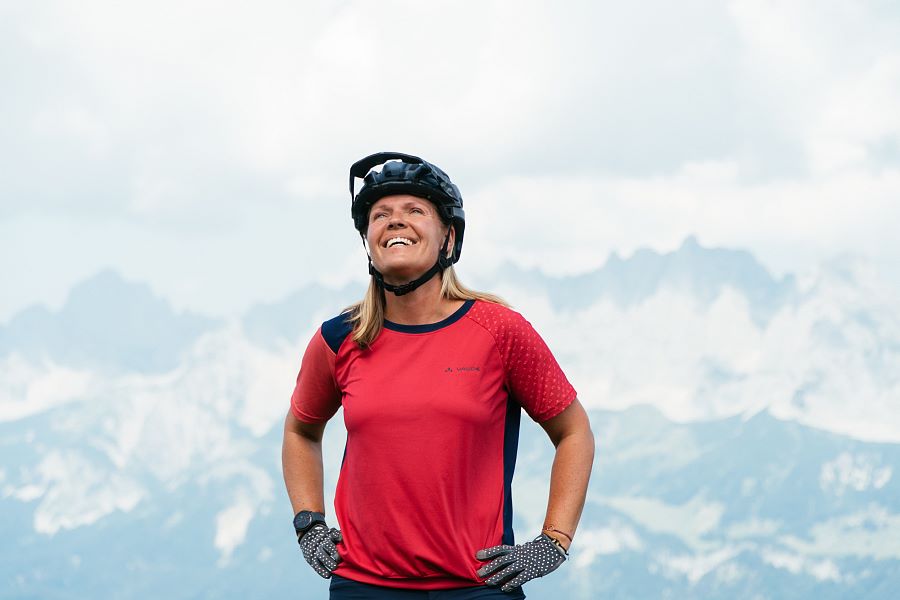 An extremely difficult twist of fate caused Karin Exenberger to turn her back on her home in Kirchberg in Tirol for a certain period of time at the age of sixteen. "When I lost my mother back then, everything suddenly became too confining, too depressing. I wanted, needed, to get away." She went to London as an au pair for a year, followed by a stopover in Vienna, and finally she commuted between America and Australia as a flight attendant. "I was away from home for a long time, looking for the anonymity of big cities, but since I've returned, I've come to appreciate how nice it is to live here." Love took her from her hometown of Kirchberg to Oberndorf in Tirol. Together with her husband Kurt, they started a family, two lively boys - Lucas and Lenny - entered her life and turned it upside down. "Long ski tours followed by freeride descents in Winter are not possible at the moment due to time constraints, but we enjoy wonderful summer days with the children in the swimming pool, on the mountains or in the surrounding bike parks. Cycling is a passion that Karin discovered for herself as a child.
Flow or single trail?
Today she and her husband run the Bikeacademy in St. Johann in Tirol, Austria's first mountain bike school. Numerous MTB riding technique trainers are trained there every year, and casual tours, camps and technique training courses at every level of difficulty await holiday guests, young and old. According to the motto "Get off your device and go outdoors" there is a variety of different Kids Bike Camps on offer. "Anyone who sits at their tablet experiences nothing. Some game is being played but it is soon forgotten. In nature, on the bike, the children meet like-minded people and experience unforgettable moments. Friendships are formed, skills are trained, body and mind are challenged in a playful way." While parents can work off their energy hiking or cycling in the impressive mountains of the Kitzbühel Alps, the kids are in good hands with the trainers. "The action-packed week comes to a crowning conclusion with the Bikeacademy Grand Prix, a team technique competition."
Up with the cable car, down with the bike
When Karin herself needs time to switch off, she grabs her bike and sets off to conquer difficult single trails. She likes to rely on the great infrastructure of the surrounding mountain lifts to assist her climb and prefers to save her energy for tricky descents. "On a downhill, I have no room for other thoughts. I concentrate completely on the route ahead of me, look ahead to see what obstacle is waiting for me, focus on how I have to position myself and how I have to shift my weight in order not to fall over, but to get through the trail without making mistakes. There are so many passages in the Kitzbühel Alps that you can work your way through, bit by bit. When you eventually reach such goals, it gives you an incredible feeling of joy."
Sharing feelings of happiness
Karin wants to share these feelings with her guests. "We Tyroleans are very hospitable, open people. The landscape does the rest. We have many green grassy mountains, wide valleys and in between, as a striking counterpart, the magnificent Wilder Kaiser mountain range." A landscape that allows for a variety of leisure activities and, of course, has one or the other casual trail routes. "Whether it's the bike trail on the Hahnenkamm or the OD trails in the new bike park in Oberndorf, there are simply an incredible number of opportunities to let off steam and test your limits."
Even though the sea is very close to her heart, it's the mountains that always keep Karin spellbound: "Every summit structure is different, no two are alike. You associate an individual experience with each summit cross and perhaps sketch it briefly with an entry in the summit book. It is these memories and moments, that you can only receive from the land, riches like no other, rich in exhilaration, rich in mountain tranquility.

More helpful information
...nurture body and soul. Born 1986 in Carinthia, studied media and communication sciences in Klagenfurt. As a freelance journalist, copywriter and blogger she likes to travel a lot. Mountain freak, horse freak, neo-cellist and gourmet. More details: www.gedankenschmiede.at more details
all articles
Find more stories on the following topics
You might also be interested in these articles