Free as a bird
Philipp Zellner is the founder of TirolAir-Tandemparagliding Company. Experience the Kitzbühel Alps with him from a bird's eye view: he takes his guests into the world of the skies on a tandem paragliding flight - for unforgettable moments of freedom and exhilaration.
Wildly growing dreadlocks, a mischievous grin on his sun-tanned face, the likeable Tyrolean dialect on his lips: Philipp Zellner is totally at home with nature. "When was the last time you consciously watched TV?" "That must have been a few years ago." Because he definitely knows how to spend his time differently. The backdrop of his life is the Tyrolean mountains, no matter from which perspective. As a child he explored the landscape with his parents mainly with hiking boots and by bike, but nowadays he much prefers to take off and let the wind blow in his face. Flying is his passion, the paraglider his best friend, the mountains around Kitzbühel his playground.

Fly once, fly forever
A colleague gave him the idea: "Actually, I always wanted to be a mechanic. At the age of ten, I was already tinkering with old engines in my father's garage and proudly declaring my knowledge to adults, even though the tip of my nose was only just protruding from behind the bonnet at the time." After a momentous accident with his motorbike, however, this hobby became too risky for him and the search for a new pastime began. "My colleague's uncle was running a flying school at the time, I dropped in without further ado, took my first flying lesson and we both knew this is it, this is what I want to do. This is where I literally got hooked."

Pure exhiliration!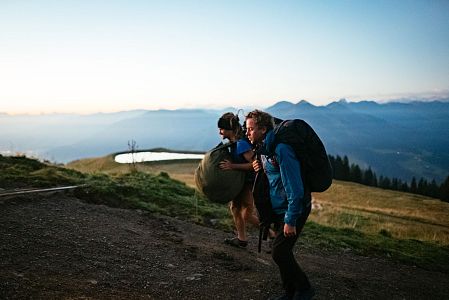 It is this unique feeling of freedom that accompanies Philipp on each of his flights: "When you are up in the air, you don't waste any thoughts on tomorrow, you live and fly in the here and now." He wanted to make this elation and experience possible for others, so he founded his company TirolAir-Tandemparagliding in 2019. Whether it's a pleasure, adrenaline, thermal or cross-country flight, you can count on airy experiences with Philipp and his team. "People often imagine tandem flying to be much harder than it actually is. The only prerequisites you have to bring along is the desire to approach the mountain together and a body weight of between 20 and 120 kilos. You sit comfortably in the paraglider itself and I do the rest." You can start either in Söll or Hopfgarten im Brixental at the respective gondola station. Philipp's GoPro action camera provides lasting memories, and you should plan around one and a half hours for the entire experience.


Appreciating home
Philipp has invested a lot of time in flying to improve quickly. "It is a time-intensive activity. If you only get to fly once or twice a month, this is not ideal. The hand movements have to be as natural as when driving a car. It is a sport that should not be underestimated." He himself has been all over the globe with his glider, in Spain, Chile and a 1,300-kilometre Himalayan crossing with a total of 13 cross-country flights from Nepal to India. But even though he has already travelled to many impressive places and explored them from a bird's eye view, the Tyrolean mountains around Kitzbühel have a special place in his heart. "We mountain people are proud of our homeland. We take care of our landscape and know how privileged we are to be able to live here." For Philipp, he doesn't need much more than a mountain and his paraglider to feel free and full of energy - for flights of fancy for the soul.



More helpful links
...nurture body and soul. Born 1986 in Carinthia, studied media and communication sciences in Klagenfurt. As a freelance journalist, copywriter and blogger she likes to travel a lot. Mountain freak, horse freak, neo-cellist and gourmet. More details: www.gedankenschmiede.at more details
all articles
Find more stories on the following topics
You might also be interested in these articles