Follow the call of the mountains
As a qualified mountain hiking guide, the KAT Walk has become part of home for Elke Henke. As there, where only nature is listening, she finds peace and understands that it is possible to rearrange your own stars in life, if you have the courage to do so.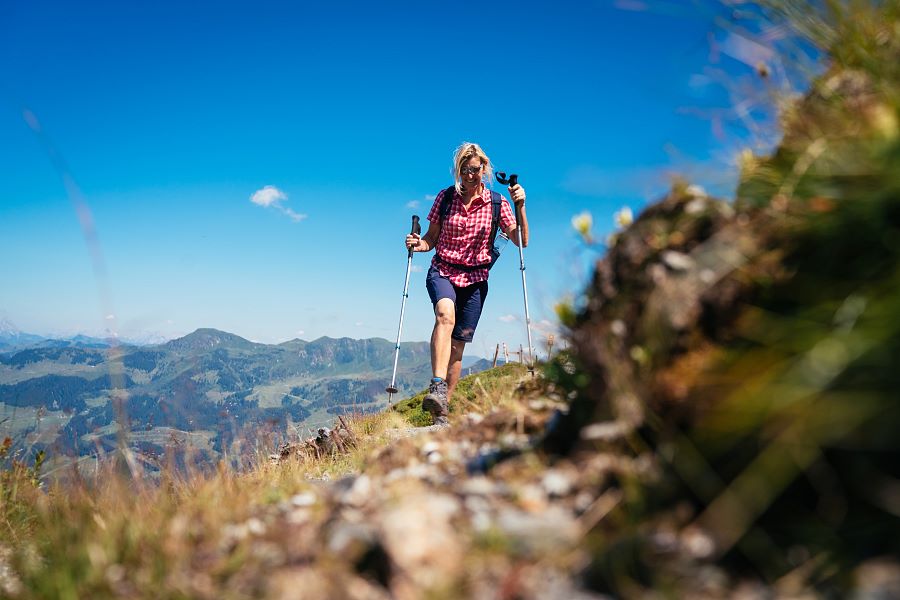 The hiking guide wanders along the second stage of the KAT Walk in magnificent weather in Kelchsau.
In her job, Elke Henke, had everything and at the same time nothing. Although she had a managing position and success across the board, internally she was burnt out and empty. So to compensate for her office job she looked for happiness in the Kitzbüheler Alpen mountains, where she finally found what she was looking for. With every step in unspoiled nature, more and more tranquility returned to the overly stressed career woman and the understanding that she must change something fundamentally in her life so that she wouldn't ever lose this long sought-after feeling again. She resigned from her previous job without further ado, changed her high heels for sturdy hiking boots and what originally began as private mountain tour guiding among friends developed into a new passionate career which has continued unabated since. As a certified mountain hiking guide, Elke takes most of her hiking groups on the KAT Walk, the Kitzbüheler Alpen Trail. "The mountains are my calming influence. Everyday is different. Sometimes the sun is shining, sometimes dense fog spreads across the green grassy Alpine pastures. Mountains are similar to people, they are not the same every day."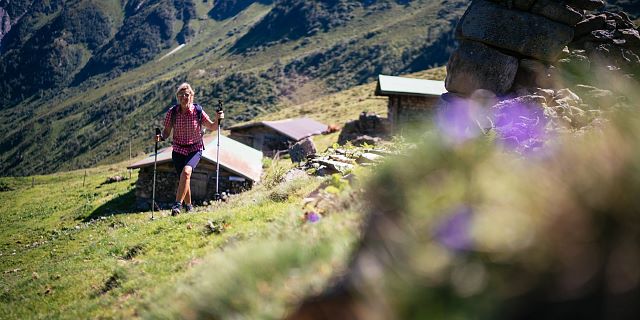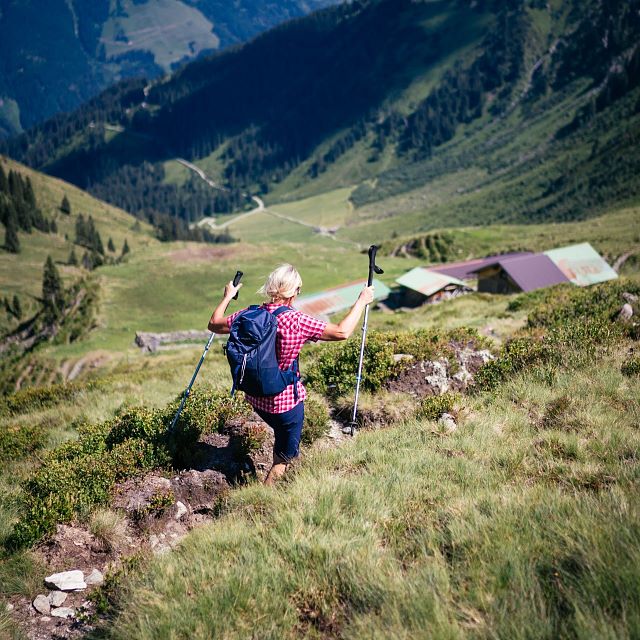 Mountains are the best psychologist
For Elke, the Kitzbüheler Alpen summits are quite simply psychologists: "I go because it gets me out and up there. I can't explain where this feeling comes from, it's just there. I return a few hours later full of energy and suddenly know how I can tackle everyday problems." Elke wants to share this feeling of deceleration with others because it is exactly this that is missing and needed nowadays in many people's fast pace of life. "A number of holidaymakers come to Tyrol and are unable to switch off mentally. On a guided tour, their primary concern is how fast they can get to the mountain top and return to the valley." However, with Elke "personal bests" don't play an important role. "In fact I take my time. If an attractive place catches our attention along the KAT Walk, then we simply relax on the meadow and enjoy the distant views, smell the scent of freshly cut grass in Summer or observe falling leaves in Autumn, listen to the buzzing bees, chirping birds or whistling wind. Only when I feel that the guests begin to relax and unwind, that is the moment when they have really arrived. Such moments stay with you. They cannot be captured with your mobile phone or camera – just with your heart."



Breaking new ground together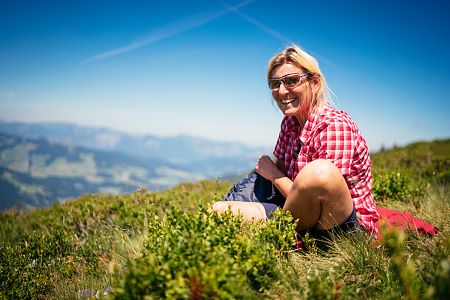 Overwhelming moments - there are a few of these on the KAT Walk. Elke experiences these indescribable moments again and again with her hiking groups. "The trail is a continuous physical challenge which takes us across the Kitzbüheler Alpen within six days. Self-doubts emerge among the hikers from time to time." But when the group sticks together, and united they cross the most difficult summit, tears of frustration transform to tears of joy. "Friendships and deep ties are formed which remain for ever." Such experiences bring people together. For Elke a feeling of gratitude – "when we arrive at the end of the KAT Walk, and I can be a part of the happiness the hikers found along the route, that is the best that can happen to me in the mountains. A feeling that cannot be described in words."
Everyone has their own goal
For hikers the KAT Walk is the "catwalk across the Kitzbüheler Alpen, with the exception that you wear hiking boots instead of high heels." On one hand you enjoy picturesque views and always know where the trail is leading and how far you have travelled already. On the other hand it's the particular connection between nature and the luxury of knowing that at the end of the day-long trail a freshly laundered bed and a pre-ordered meal of regional culinary delicacies await you. Ultimately, the official end of the trail is Pillersee but Elke knows: "even when this point is highlighted on the map, the actual goal is different for everyone. Of this I am convinced." One that can only be felt with the heart.

More helpful information
...nurture body and soul. Born 1986 in Carinthia, studied media and communication sciences in Klagenfurt. As a freelance journalist, copywriter and blogger she likes to travel a lot. Mountain freak, horse freak, neo-cellist and gourmet. More details: www.gedankenschmiede.at more details
all articles
Find more stories on the following topics
You might also be interested in these articles