Summit retreat
Benjamin Kalra is a text book example of an outdoors guy. Even as a child he could hardly keep his legs still and all sports were tried out with equal amounts of enthusiasm and curiosity. One of them, mountain biking, became a passion for life.
The bike hero from the PillerseeTal valley on his way up to the Steinplatte's summit.
The mountains have always been Benjamin's fitness centre and nature's impressive Kitzbüheler Alpen his playground. Growing up in Fieberbrunn, as a child and young boy, every day he had the freedom to choose another summit as his daily goal. His parents, his mother Austrian and his father of Indian origin, let him enjoy his fun. "If you grow up with such values, you can't hide your love for the mountains as an adult, on the contrary." For him, the Kitzbüheler Alpen are the perfect retreat and they fascinate him anew on every tour. At the age of 16 he discovered freeriding for himself, where he still celebrates international success. "I love pushing myself to the limit and being able to develop myself further." And while it is the skiers in Winter that like to accumulate their metres and metres of elevation, the qualified sheet metal worker jumps on his saddle in Spring as soon as the snow begins to recede and the first blades of Alpine grass start to peep through.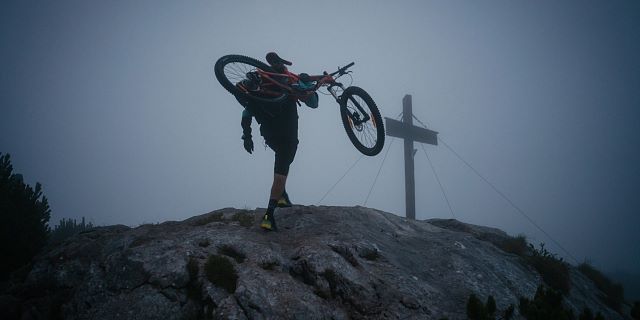 Sunrise on the KAT Bike
"After a hard week's work, it's not the bars I'm drawn to at the weekend, but to the mountains of the Kitzbüheler Alpen." Instead of coming back from the trendy Innsbruck clubs at two or three in the morning, Benjamin prefers to jump out of his bed at this early hour, grab his bike equipment, pack a snack with healthy products from local farmers and bikes along the KAT Bike – the Kitzbüheler Alpen Trail for mountain bikes, to magical places guaranteed to give you a craving. Fieberbrunn is the destination of this structured multi-day trail: those who get this far have already 6,000 metres of elevation and over 170 kilometres under their belt. Shorter versions are also an option also giving consistent eventful experiences. As well as the luggage transport service and hotel reservations for recreational, culinary evenings, the KAT Bike promises one thing above all:- "Pure feelings of happiness and unforgettable moments of joy kilometre for kilometre."




At nature's premier seat
It is exactly these moments that Benjamin searches for and finds on the KAT Bike: to enjoy sunrise high up in the Alps and to experience from front row premier seats, how nature awakes with the first warming rays of sunshine. For this thrill, many a sweaty climb is worth it: "For me that is a perfect start to the day and, followed by a downhill cycle to the valley about 9 a.m., fully energised, I am back to myself and everyday stress has been blown away." The sun doesn't always have to be shining for such an experience – foggy days too have their charm. On a foggy day you see small details that you wouldn't otherwise notice on clear days. "I see new details on every tour, discover different perspectives and learn to appreciate the tranquility of nature in its entirety." Benjamin appreciates the variety on the KAT Bike: "You don't cycle on a closed circuit, but discover new paths, mountains and valleys every day."


Seek and find the focal point of life
Benjamin has already seen a lot of the world as a globetrotter and is certain: "We live in paradise. The clear, clean air, the harmony between nature and people throughout the four seasons – that cannot all be taken for granted. Our region has so much to offer that I nearly feel myself becoming stressed from having to choose", says the busy man grinning. Rafting, climbing, running, mountaineering, mountain biking in Summer, skiing, ski jumping and freeriding in Winter - Benjamin never gets bored, he defines himself through versatility. "These sport disciplines don't permit any other thoughts."
Benjamin doesn't run out of peaks for such flow experiences. He was never the type for a fitness centre: "I just need nature to stay fit and be able to switch off. This brings several advantages in terms of condition, coordination and orientation. When I hear the cowbells ringing on the mountain pastures or watch two chamois chase each other across the mountain, that means home and peace for me simultaneously. I don't need more, because all of this makes me a wealthy man, in the truest sense of the word."
More helpful information
...nurture body and soul. Born 1986 in Carinthia, studied media and communication sciences in Klagenfurt. As a freelance journalist, copywriter and blogger she likes to travel a lot. Mountain freak, horse freak, neo-cellist and gourmet. More details: www.gedankenschmiede.at more details
all articles
Find more stories on the following topics
You might also be interested in these articles